AstroGoods Mirror Cells

For 6 " to 13.1" primary mirrors.
Designed dimensionally to your mirror specifications for optimal performance.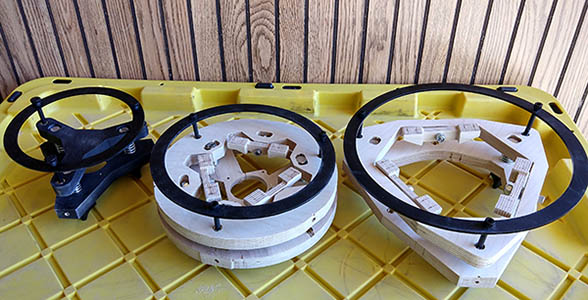 6", 8" and 10" mirror cells with calaculated optimal support points. No clip intrusion in light path.
Front: adjustable flat black acrylic retaining ring.

Rear: collimation knobs and lock screws.

Fan insert cutouts also available.


Cells are manufactured individually, designed to mirror diameter, thickness, focal length, and secondary size dimensions. This allows calculating the optimal support points for top performance.

Our new retaining system eliminates intrusive mirror clips, or stressful gluing. We place a 1/8" thick black acrylic ring 1/8" over the mirror front, so the mirror can't tip out. The ring is supported on black 1/4" nylon posts abutting the mirror edges at 120 degree spacing, preventing unwanted/unnecessary lateral movement in the cell. Eliminating intrusive mirror clips provides a perfectly clear circular aperture for sharper images by (reducing star flaring). The tiny magnitude loss is imperceptible to the naked eye, and can also cure any turned down "image softening" edge. And our upcoming spider masks take aim at elimination of diffraction spikes in your star images for glare free views!



| | | |
| --- | --- | --- |
| Type | Description | Price |
| SMC6K | Standard Mirror Cell 6" Kit: (7.6" ID min tube). | $75 |
| SMC6F | Standard Mirror Cell 6" Finished (7.6" ID min tube). | $100 |
| PMCK | Premium Mirror Cell Kit (8" to 13.1") | $147 |
| PMCF | Premium Mirror Cell Finished | $171 |
| PMCKF | Premium Mirror Cell Kit with fan inset | $160 |
| PMCFF | Premium Mirror Cell Finished with fan inset | $185 |

The Premium Mirror Cell shown at left is our first article (prior to new acrylic ring), assembled to "dry fit" before sanding. Kits arrive assembled, just disassemble, fine sand and paint or finish.

Materials and manufacture:

Dimensions and weight:

Retaining ring

NEW

!:

Now made from laser cut 1/8" black acrylic. (Replaces wood ring shown).

Eliminates mirror clips for a perfectly round mirror face, no intrusions.

Overhangs mirror edge by 0.125". Magnitude reduction is trivial.
Mirror cannot fall out through opening.
3 black 1/4-20 nylon post pass though acrylic seated into cell.
Nylon screws are safe, designed to touch outside edge of primary.

Mirror prevented from lateral movement during vertical to horizontal.

Eliminates any visible mirror clip flare.

Front plate:

Completely open design. No obstructions behind mirror (8"-13.1").

Support arms hold mirror 0.125" above front plate.

Rear plate:

What you receive and need:

Kits arrive assembled, unpainted, sanded with 80 grit.

All parts included except 0.25" tube mounting bolts and nuts.

Requires: finishing or painting and reassembly for kits.