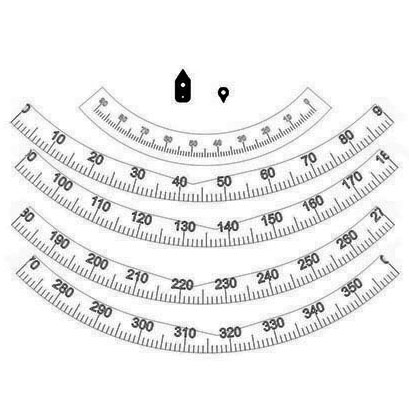 Azimuth quarters with altitude setting circles, with pointers. Example cut to fit around rocker box.

Manual Setting Circles
Custom sized: We can fit your requirement.
Inscribed 3mm birch plywood, easy to glue.
Azimuth (Az) bearing setting circle: Quarters/Halves/Circles. Quarters fit precisely domestic US shipping included. Complete circles and halves require additional shipping.

Quarters and circles available: (1) fitting top of rocker box bottom board, (2) split or fitted around limited or no space corners of side and front boards, (3) for round ground boards.

Altitude (Alt) bearing setting circle: Designed custom to fit your altitude bearing.

Altitude and azimuth pointer assemblies included.


Please watch for our confirmation e-mail after you order. We will ask for a few simple dimensions.